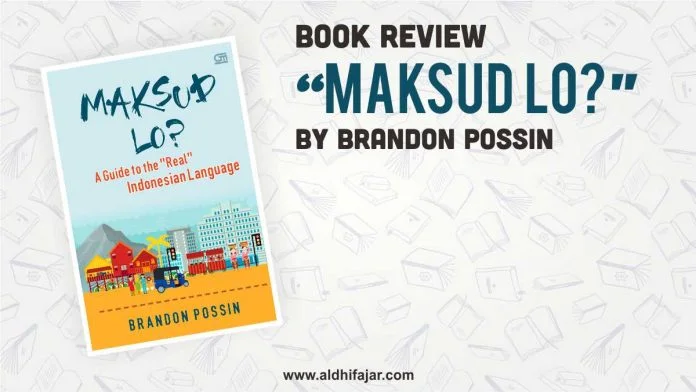 While browsing Gramedia Bookstore, I noticed a unique book called "Maksud Lo?" – which turned out to be a guide to the "real" Indonesian language.
I was curious to see what (foreigners) know about Indonesian slang. What made it more interesting is that the terms used are not of the formal Indonesian language – these are actually words frequently used in the daily lives of locals.
So, no wonder foreigners (orang bule) struggle to understand the slang of Indonesian social communities and associations that are often used in daily talk. Almost none of these slang words are written in formal textbooks, yet they form the bulk of daily communication in Indonesia. 
This slang is often used and spoken by young Indonesians. Let's thus dive into this book.
Book Review of "Maksud Lo"
Written by Brandon Possin and published by Gramedia publishers, it is available for purchase online  (Brandon Possin Book "Maksud Lo?") for only  Rp. 65.000 in Indonesia and for $19.95 on Amazon in the United States and elsewhere.  Possin wrote it with a readable style and clear descriptions of slang words.
What's unique about  "Maksud Lo?"
"Maksud Lo" comprises a variety of slangs often used in Indonesia, not only in daily talk but which also exist in everyday phrases and proverbs.
Some unique and exciting things couldn't make me stop reading this book cover to cover!
Just like a Dictionary
Presented in the form of a dictionary, the reader can easily understand every word that can be found in daily talk of Indonesian locals. The lexicon, such as acronyms, contractions, verbs, adverbs, and nouns, are available in this book, and organized alphabetically.
Description of Daily Use
In addition, if there is a word uncommonly used in daily talk, the writer then gives an example of conversation or dialogue when the word should be used. One example is the acronym "EGP" or, "emang gue pikirin", meaning "I don't care", which is a phrase that is often used in friendly conversations.
English Words that Entered Indonesian Lexicon
Several borrowed words from English are spoofed or absorbed into Indonesian slang. Most of these borrowed words are often used in daily conversations by some of our communities or peers. For example, the words bestie, fifty-fifty, chill, sis, let's go, etc.
Regional Slang Fun
In slang, it's not only the Indonesian language that is used. Some regions such as Yogyakarta, Makassar, Bandung, have their own slangs too. For example, words like asu, sing, belegug, etc. are also often heard in daily conversations in almost every community.
About Brandon Possin
Brandon Possin is an American citizen from Madison, Wisconsin. He graduated from the University of Virginia and has been a guest lecturer at several universities in Chile and Brazil. Brandon has been living in Indonesia for five years as a student of cultural science. He enjoys learning about Indonesian cultures such as Sunda, Sumatera, Madura, Malang, among others.
Possin managed to collect various words commonly used in everyday languages in multiple regions and cities in Indonesia through engaging with a variety of groups and communities around Indonesia.
Possin served at the United States Consulate General in Surabaya; as an economic officer at the US Embassy (Pakistan); and other U.S. diplomatic posts. Additionally, he has also opened the Indonesian market for an Ethereum blockchain venture to improve digital wallet inclusion in Indonesia.
A polyglot, Possin has mastered several languages, including Portuguese, Indonesian, Spanish, Urdu, and Japanese. 
Conclusion
Maksud Lo is worth your time, especially to understand the commonly spoken informal language of Indonesia.
.
As the use of slang in Indonesia increases, especially among young people, this is a must-read. Happy reading!